Hawaiian Gold Bracelets <!MUST_VIEW_SOURCE_FOR_WWW_coupon>
<!SOCIAL_START> <!SOCIAL_END>

<!#996MultiTitleStart>FEATURED HAWAIIAN GOLD BRACELETS<!#996MultiTitleEnd>

<!#996MultiTableStart>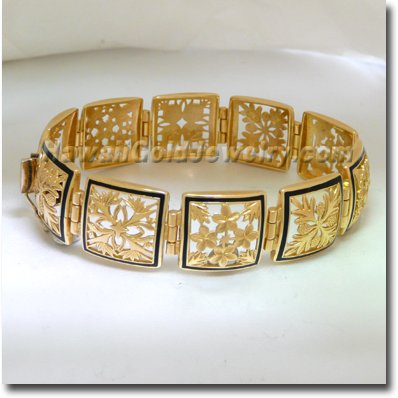 Multi Quilt Bracelet
Design: Available in Anthurium, Bird of Paradise, Hibiscus, Kukui, Pineapple, Plumeria, Ulu quilts. Metal: 14K Yellow Gold Frame: Plain or Black Border Features: 1, 2 Width(s): 15mm, 18mm Dimensions: 15x15mm, 18x18mm Sizes: (to Sz 7)
---
<!#996MultiTableEnd>

Click here to View All Hawaiian Gold Bracelets Jewelry Categories

<!#450IMAGESTART>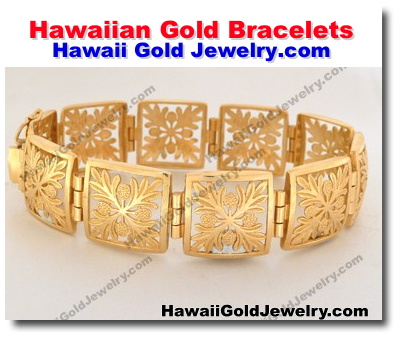 <!#450IMAGEEND>
Back to the top
<!#994MultiTableStart>
Bird of Paradise Link Bracelet
Design: Bird of Paradise Flower With Hawaiian Scroll Metal: 14K Yellow Gold Frame: Plain or Black Border F... More...

---

Cut-Out Heart Bracelet
Design: Hibiscus Flower With Hawaiian Scroll Metal: 14K Yellow Gold Frame: Plain or Black Border Features:... More...

---

Double Heart ID Bracelets
Design: Hibiscus Flower With Hawaiian Scroll Metal: 14K Yellow Gold Frame: Black Border or Plain Features:... More...

---

Multi Quilt Bracelet
Design: Available in Anthurium, Bird of Paradise, Hibiscus, Kukui, Pineapple, Plumeria, Ulu quilts. Metal: 14K Yello... More...

---

Plumeria Link Bracelet
Design: Plumeria Flower Metal: 14K Yellow, White, Rose Gold Features: 1, 1 Additional Link, 2, 2 Additional L... More...

---

Plumeria & Flower Bracelet
Design: Plumeria Flower Metal: 14K Yellow Gold Features: #6, 3, #7 Width(s): 5mm wire, 5mm Wire, 3mm W... More...

---

Plumeria Scroll Link
Design: Plumeria Flower With Hawaiian Scroll Metal: 14K Yellow Gold Features: Additional Link Sizes: (... More...

---

Puanani Link Bracelet
Design: Puanani Flower With Hawaiian Scroll Metal: 14K Yellow Gold Frame: Plain or Black Border Features: ... More...

---

Round Bracelet Link
Design: Hibiscus Flower Metal: 14K Yellow Gold Frame: Plain or Black Border Features: 1 Width(s): <... More...

---

Slider Bracelet
Metal: 14K Yellow Gold Features: Additional Full Sz. Width(s): 1.2 mm rope Sizes: (Up To Sz. 7) More...

---

Slipper Link Bracelet
Metal: 14K Yellow Gold Frame: Plain or Black Border Width(s): 6mm Dimensions: 6x14mm Sizes: Sm ... More...

---

Sweetheart ID Bracelets
Metal: 14K Yellow Gold Frame: Plain or Black Border Features: Reg Enamel Name, No Name, Raised Plain Only, Ra... More...

---

Ulu Quilt Link Bracelet
Design: Ulu Flower With Hawaiian Leaves Metal: 14K Yellow Gold Frame: Plain or Black Border Features: ... More...

---
<!#994MultiTableEnd>


ref no:6441
*Prices subject to change without notice.
*Pictures may not reflect true colors. Not shown in actual size.
*Weights (grams) & sizes (mm) shown on this website are approximate .
*The actual weight/size of individual pieces may vary slightly.
*No returns on custom, printed, personalized or special order items.
Please send questions about this Web site to .
Copyright © 2009-2015 HawaiiGoldJewelry.com. All rights reserved.
Terms of Use / Legal Disclaimer / Privacy Statement

Site Design and Manage by MacBusiness Consulting
All of our bracelets are clasps. Just measure your wrist in inches.


<!#998MultiTitleStart>RELATED LINKS<!#998MultiTitleEnd>

<!#998MultiTableStart>

Hawaiian Jewelry Categories
View all of our Hawaiian jewelry categories.
---

New Hawaiian Jewelry
View the newest Hawaiian jewelry released by Hawaii Gold Jewelry!
---

Popular Hawaiian Jewelry
View some of our popular Hawaiian Jewelry items and groups! Hawaiian Baby Jewelry, Hawaiian Mom Jewelry, Hawaiian Wedding Rings, Hawaiian Men's Rings, Hawaiian Toe Rings and Anklets
---

Win a Free $100 Jewelry Credit HGJ website
Enter our sweepstakes to win $100 Jewelry Credit on HawaiiGoldJewelry .Com website. More...
---

Policies and Customer Service
Shipping policy, refund/return policy, payment policy, online security and more
---

Hawaii Gold Jewelry Twitter
Follow Hawaii Gold Jewelry - money savers, free offers, special events, news and more...
---

Hawaiian Jewelry Sales and Special Offers
View the Hawaiian jewelry we have a 25% off special discount on.
---
<!#998MultiTableEnd>