About Hawaii


Gold Jewelry

Categories



Pendants


Earrings


Rings


Bracelets


Watches


Bangles


Necklaces


Toe Rings/Anklets


Stickpins

---
Sales & Specials

Customer Service
Policies &
---
FAQ

Resources

Jewelry Tips &
Free Giveaways

Testimonials



News



Links & Social


Networks



Contact Us



Email Page



Plumeria #3 Mom Vertical Pendant <!MUST_VIEW_SOURCE_FOR_WWW_coupon>
<!SOCIAL_START> <!SOCIAL_END>
Design: Plumeria Flower Metal: 14K Yellow Gold Dimensions: 13x29mm
Shopping Cart Using Safe/Secure PayPal™
*Images not shown in actual size.
Item#
Description
Price

P0847

View Big Image

Plumeria #3 Mom Vertical Pendants


Dimensions (WxH): 13x29mm
$410.00


$287.00


Ref#:858
Quantity can be increased after you add each item to your shopping cart.

To check out, click on View Cart.

Applicable shipping rates and taxes are calculated upon check out.



ref no:6731

Back | Home>> Directory >>Hawaiian Pendants



*Prices subject to change without notice.
*Pictures may not reflect true colors. Not shown in actual size.
*Weights (grams) & sizes (mm) shown on this website are approximate .
*The actual weight/size of individual pieces may vary slightly.
*No returns on custom, printed, personalized or special order items.

Please send questions about this Web site to .
Copyright © 2009-2012 HawaiiGoldJewelry.com. All rights reserved.
Terms of Use / Legal Disclaimer / Privacy Statement

Site Design and Manage by MacBusiness Consulting

If you have a PayPal account click on the icon above to verify Hawaii Gold Jewelry.com with PayPal.
Shopping cart w/options below.
Available in White & Rose Gold!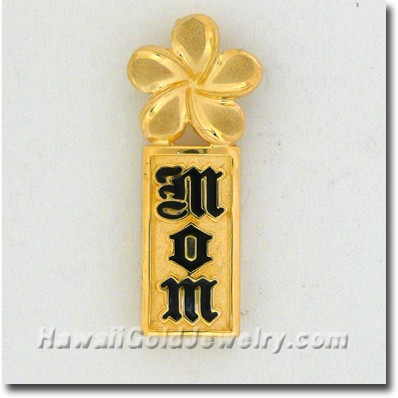 Design:
Plumeria Flower
Metal:
14K Yellow Gold
Dimensions:
13x29mm

Email to a Friend

We are working as fast as possible to get all images/sizes posted. If you have a question call us at 808-739-9494.
<!#998MultiTitleStart>RELATED LINKS<!#998MultiTitleEnd>

<!#998MultiTableStart><!#998MultiTableEnd>